As well as profitability, people who are worried about their future and want to take out a pension plan should take management fees into account.
With management fees it is very important to read the small print and not to place too much faith in a simple percentage, something that is very common when it comes to financial products offered by large banks. Although on the face of it they are very low percentages, it should be remembered that each year they have a cumulative impact on total assets.
At Loreto Mutua, our management and custody fees are around one third of the average for personal pension plans in Spain. For example, 0.3% for the Mutual Benefit Fund, 0.4% for the Personal Plan Loreto Óptima, compared with the 1.1% that is the average applied in the sector, and far below the maximum 1.3% allowed.
How does this translate into your ability to save? You can obtain the same final benefit by making a smaller investment, or a greater final capital amount for the same investment.
For example, here we compare the impact of the management expenses of our Mutual Society (0.30%) with that of a plan that will apply the maximum allowed (1.30%). As this graph shows, in order to save capital of € 100,000 in 35 years at an average annual return of 5%, the savings effort of a Loreto Mutua mutualist would amount to only € 60,933, 30% less than the capital a invest through an individual plan with the maximum management cost.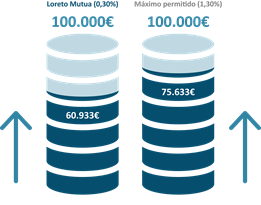 To take another example, what would an initial investment of €1,000 be worth after 20 years if there was a difference of 0.5% between the fees of two different plans?