Extraordinary Contributions Campaign 2017: €3,910,875.72
Madrid, February 2018. At LORETO MUTUA as we close the books at 31 December 2017, the good news just keeps coming. Last year's Extraordinary Contributions Campaign closed with a record €3,910,875.72. Once again you have trusted us, our management, safety, service and support. For these reasons, all of us at LORETO MUTUA want to THANK YOU.
An inspiring campaign which, thanks to information, motivation and its positive Christmas and human message, has more than fulfilled its purpose. Such successes do not come about overnight but are the fruit of almost 50 years' experience, of continuously growing assets and returns among the highest in the industry, which have earned us various awards such as the Morningstar five stars and our sixth place in the Inverco ranking. Examples include the Mutual Fund's 4.38% average over the past ten years, compared with the average pension plan return of 2.24%. This experience and track record constitute the most solid of foundations and reasons for your trust. It is the reward for all your effort and trust.
The total legal limit of annual contributions to your plan is €8,000, plus a further contribution of €2,500 with the right to deduction from the contributor's taxable base if it is made in favour of the contributor's spouse, providing his or her net income from work or economic activities does not exceed €8,000 per year.
Despite the economic problems and arguments about pensions, this information shows the high level of understanding, effort and commitment on the part of aviation employees as a whole in the MUTUAL BENEFIT FUND, and on the part of the various participants in LORETO ÓPTIMA and LORETO EMPRESAS.
All this implies nothing other than new challenges and reasons to do even better in 2018, a year that has already started and which we are convinced will continue to bring good news for us all. As our motto says, good plans are for life.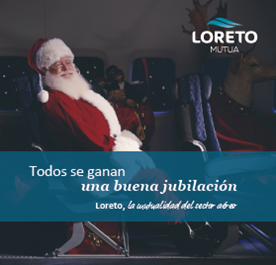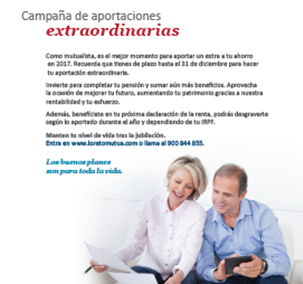 LORETO MUTUA
Communication Department